Winter Retreat
Friday the 7th of July until Sunday the 9th of July, 2023
Escape into the wild for a nourishing and grounding winter retreat in Dharug country at the Yanada Retreat in Wisemans Ferry with Nin Yoga & Roots Of The Earth.
Winter is a magical time to rest, pause and do deep inner work. Much like nature, it is a time to be dormant, allowing our bodies the time to send our roots deep into the earth to receive the wisdom of the spirits, the ancestors and the land.
We want to share our gifts of nurturing your soul through nourishing high vibration food, movement of the body through yoga classes and exploration of the soul through shamanic circles and ceremonies.
The combination of yoga, meditation, and meeting in circle, as well as optional activities such as connection to country, bush walks, unlimited hydrotherapy hot spa and the opportunity for cold exposure, will help reduce stress, improve your own physical and mental wellbeing, as well as provide a much needed break from the hustle and bustle of everyday family and work life.
We will ensure to give your nervous system the opportunity to be rested and recharged, allowing you to return back home feeling refreshed and rejuvenated.
Whats Included?
Three days and Two nights accommodation at Yanada Retreat
Nourishing food cooked by Taran from Roots Of The Earth
Welcome to country from a local first nations Dharug elder
Yoga & Meditation Classes taught each day by Annika from Nin Yoga
Shamanic healing circles and ceremonies by Naomi from Roots Of The Earth
Sound Healing & Fire Ceremonies
Time for relaxation, nature walks, hydrotherapy Spa, cold pool, lounging in hammocks and evenings by the fire pit or fire place
A specially put together welcome pack, yours to keep
Late checkout Sunday (4pm)
Optional Extras:
Stay 1 night later to continue to decompress and integrate your experiences during the retreat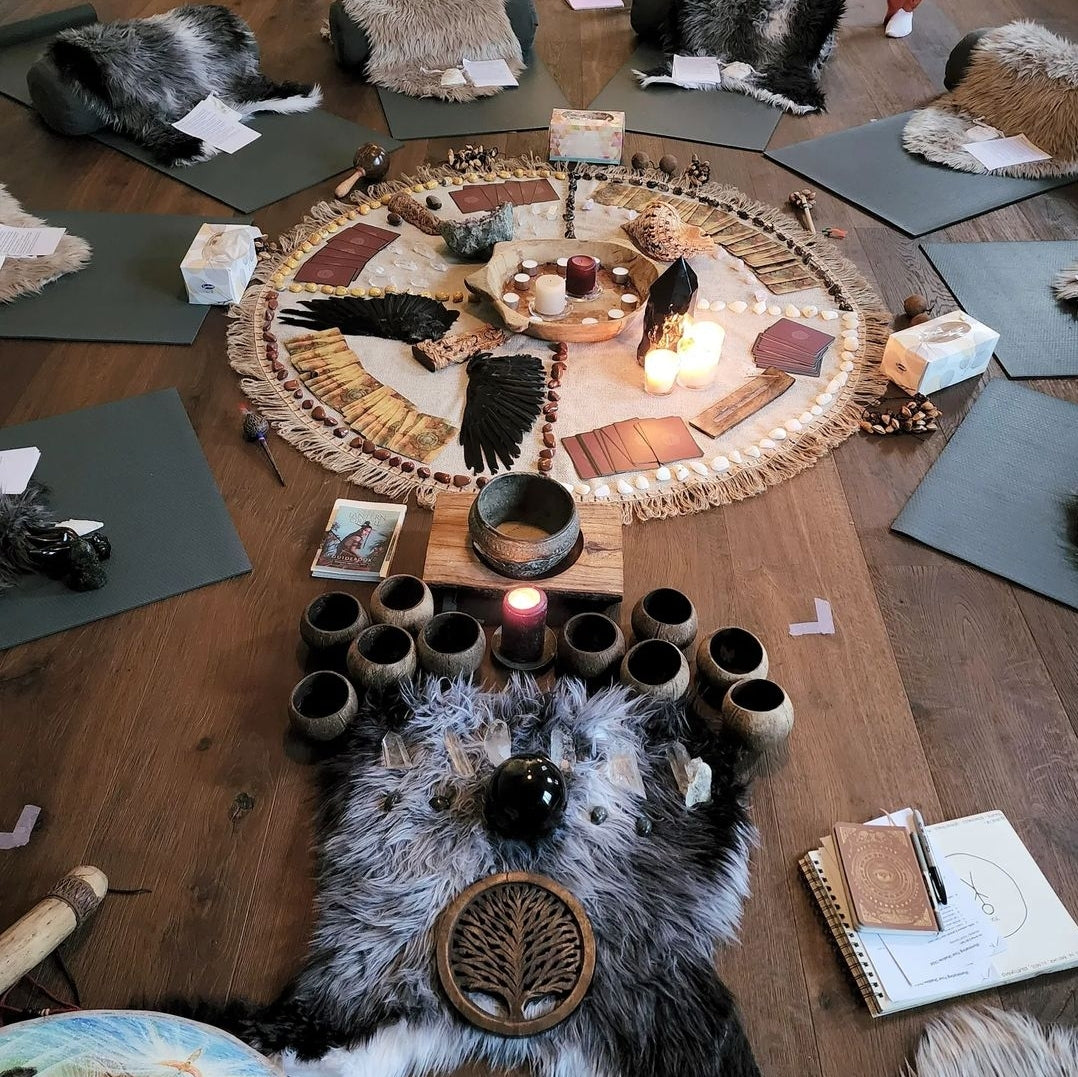 Location
Yanada Retreat

Yanada is an idyllic bush retreat, nestled in a glorious green valley between the McDonald River and the Yengo Mountains, yet only 120 minutes from Sydney CBD.  Yanada, 'Moon' in Dharug and Darkinjung, has two 95 sq. m spaces over two levels each fully surrounded by deep cool verandahs, and special wellness zones to help you bliss out, including a mid level hydrotherapy spa, a yoga terrace, pond and fire pit.

Rejuvenate

Relax on Balinese day beds on the cool verandahs or pool pavilion, listen to the sound of birds, watch the Kookaburras and Kangaroos, look out along the silvery Gunaday River or over the fields and across the valley. Take a cool winter dip in the swimming pool or just chill out in the water seat, on the sunbeds to gaze at the beautiful views over the valley. Yanada is surrounded by private bush walks; around a flat rock peak adjacent to the Yengo National Park.

Mount Yengo

Yanada is in the McDonald Valley 2km outside the historic village of St Albans. We adjoin the Yengo National Park and are 17 minutes from Wisemans Ferry and the Hawkesbury River. This is the southern tip of Darkinjung country with Mount Yengo at its heart. This place is hidden and remote,  known since the first European settlement as the Forgotten Valley, yet less than 2 hours drive from Sydney.
Invest in yourself for 2 nights and 3 days at Yananda
Early Bird - $980 (first 8 spots only)
Full Price - $1180
Extra night stay (Sunday) - $270
We have had a lot of interest in this offering from our communities and we do expect to book out.  
Save My Spot In The Retreat
About The Fascilitators
Naomi & Taran from Roots of the Earth, and Annika from Nin Yoga, have been buddies waaayyyy before they both took the leap from their comfortable salary jobs to go on this unknown path that is serving others.
Naomi felt a strong need to bring ceremony and sacred practices into communities, to share the enlightening practices she has personally experienced on her own journeys.
Her ethos is to spread light and healing energy in the community through sacred experiences such as medicine circles, cacao ceremonies, drum journeys, blessingways, ecstatic dance and creative workshops.
She holds a safe and inclusive space that allows for deep rooted connections to self, others and the practices she teaches.
Annika is the founder of Nin Yoga and has been practicing yoga for almost a decade. Her journey started in India, having competed her first 500 hours of Teacher Training in Hatha in the birthplace of Yoga, and was then inspired to return back to Western Sydney to then open Nin Yoga in 2017.
2018 she completed another 200 hours of Vinyasa Yoga Training, as well as continuing on to do 150 hours in Yin Yoga, 100 Hours in Adjustments, 50 Hours in Sequencing, as well as currently in the middle of training 50 hours in Pre/Post Natal Yoga, as well as teacher in the studios own teacher training.
Annikas yoga classes are insightful, engaging, and sometimes challenging (but in the fun way!).
Taran is the other half of Roots of the Earth and when he's not holding space in circle with Naomi or birthing medicine tools he's in the kitchen conjuring up some of the most beautiful, nourishing and love filled food.
His passion and love for cooking truly comes through as it is his love language which he shares with everyone, over time he has honed and shaped his recipes to be filled with Beauty, Spirit, bliss and nourishment which can be felt deep down in your soul.
You'll most likely here him before you see him as he'll be "sometimes to loudly" singing in the kitchen while he creates his dishes for everyone to enjoy.
What to expect at the retreat
Upon arrival, you will be welcomed by your hosts with a cup of warm chai and shown to your room.
Friday evening involves a gentle yoga class hosted by Annika, with a nourishing dinner served in the dining area right after. Here, you can start to meet your friends for the next 3 days.
After dinner hosts an opening circle, followed by restorative yoga. This will set the foundations for the journey ahead.
Saturday morning begins with a more dynamic Yoga class, followed by breakfast. We will then make our way to meet the local elders who will bring us together for a Welcome to Country Ceremony.
Its then free time till lunch. Go for a swim, read a book by the fire or jump in the spa. Lunch will be ready when you are.
After we have filled our bellies with the colours of the rainbow, there will be another activity or workshop, followed by afternoon tea and a Yin Yoga class.
By then dinner is waiting, and your place in the shamanic circle awaits.
After circle there will be an optional Yoga Nidra session, to once again set you up for a restorative and healing sleep.
Sunday morning once again starts with a Yoga class, then fresh breakfast and tea, followed by our closing circle, sound healing, and free time on the property and the surrounding bushland.
If you chose the option to stay an extra night, you will have free time to enjoy the property followed by a nourishing and warm Dinner.
Wake up to a relaxing final Yoga Class, if you wish and enjoy breakfast before heading home.
FAQ's
When is check in and check out time?
Check in on the Friday is 4pm, with Check out on the Sunday also at 4pm.
Checkout Monday morning for anyone staying an extra night is 11am.
What if I need to come late or leave early?
Totally fine. Just let us know so we can cater to you accordingly.
Do you have payments plans?
Sure do! Roots of the Earth accept Afterpay. If you are a member of Nin Yoga, we can also set up an auto weekly direct debit (3rd party transaction fees of 2.2% will be added on top)
Do I need to do all the activities?
Not at all. Do as many or as little as you like. We will give you the full schedule on arrival and you can plan your day how you feel.
Are all the classes and circles beginner friendly?
YES! Annika and Naomi have plenty of experience catering to beginners.
I am pregnant, can I still attend the retreat?
YES! Annika has had two babies of her own and has experience teaching pre-natal classes. She will be able to accommodate you as needed on the day. Just be sure to let her know beforehand.
I want a private room, is this possible?
There are only two private rooms, that can be either two single or a double bed. If you would like to share a private room with a particular friend, it works on a first in first serve basis. Please let us know if this is the case for you and once booked in, we will reserve the room for you.
Are all the rooms inside the main house?
There are actually two bell tents outside the property, which have two single beds in each. These bell tents come with heating and the same mattresses as inside the house. If you would like the full wild experience and prefer to be in a tent, please let us know. The tents are on a first in first serve basis.
I have particular dietary requirements, can you cater?
All of our food will be Plant Based. If you have any other dietary requirements just let us know. We will prepare delicious food for everyone, including you <3
What is your cancellation policy?
You can learn more our cancellation policy below
Collapsible content
Cancellation Policy

DEPOSITS

All deposits are non-refundable.

PAYMENT BALANCE

The remaining balance (total price minus deposit) is due 30 days
before the retreat start date.

50% Balance (not incl. deposit) will be refunded for cancellation
15-29 days before event.

No Refund if less than 15 days before the event.

CANCELLATION INFO

When purchasing a retreat through our
site the cancellation policy above will apply to your purchase.

Before purchasing a retreat, it is
your responsibility to thoroughly read and understand clearly the cancellation
policy.

We know that sometimes things comes
up, and unexpected events happen that can keep you from going on a trip you've
planned. If you're totally sure you aren't able to make it to the retreat, the
best thing you can do is cancel.

OUR INTENTION

It's our intention to make things as
simple as possible for anyone who wants to go on a retreat, while balancing the
administrative and business realities of those who run retreats.

TO CANCEL YOUR RETREAT

Email: rootsoftheearthhealing@gmail.com

Include your contact number to discuss
the reason for cancellation.

CANCELLATION DISPUTES

We have the final say in all disputes
over cancellations and of course will try to solve the issue. We intend to
approach all issues with understanding, flexibility and compassion.

From that place, a solution can always
be found.

Aum Shanti

 
Invest in yourself for 2 nights and 3 days at Yananda
Early Bird - $980 (first 8 spots only)
Full Price - $1180
Extra night stay (Sunday) - $270
We have had a lot of interest in this offering from our communities and we do expect to book out.  
I Need This! Sign Me Up!
More Questions About The Retreat? Ask Us!